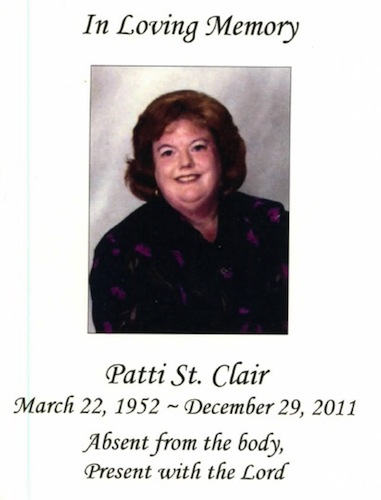 I am sorry to have to write and share that Patti St Clair passed due to complications with her diabetes this past December. I called to see how they were doing because of the horrible tornados that took place yesterday.
Her husband Glen told me that she had passed.. I was speechless... We didn't speak as often as I would have liked to. I guess we last spoke around November...
Patti was a huge part of the Empowering Caregivers Community. She was the editor our Spotlights and Newsletters. She also contributed several articles to the site.
She had become quite disabled after having neck and back surgery but forged ahead as best as she could with her limitations. She was just about to turn 60. She would always share with me confidentially that she wanted to pass before her husband did and she truly meant it. Glen shared with me today that just before she passed she told him, "Never forget how much I love you. You will always be in my heart." She and Glen would pray with Cody, their beagle for her to be taken in her sleep and she transitioned peacefully in the early morning.
I have asked Glen to contribute an article on his caregiving with Patti to our Spotlight and he has agreed to when things settle down a bit more for him.
Patti's Spotlight can be viewed at:
http://www.care-givers.com/pages/spotlight/pg.html
and a list of her articles can be viewed at:
http://www.care-givers.com/DBA...rds=&order=title
Patti, I love you.... May you be at peace.
Blessings,
Gail